The 'going electric' will be different blogs from my usual beat. Not only because they will not be related (directly) to software development, but also because they are opinionated and personal reports; editorials about switching over to an electric car. They will list my personal joys and annoyances about the switch, but I'll try to be fair and balanced.
Real life range in the fall
The weather is getting colder, it is now around freezing in the morning, and I already start to notice serious differences in predicted and actual range. Charged to 85% my Model S75D has a predicted range of 341 km. But after I drove to work this morning, which is a distance of 92 km, the remaining range was 217 km.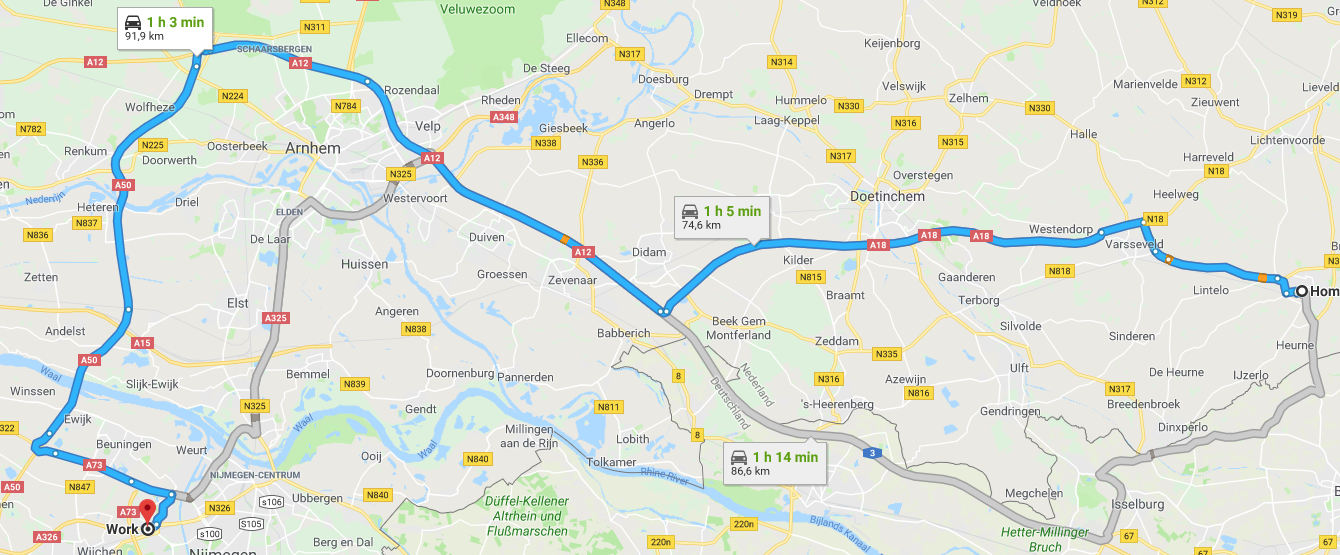 When traffic allows, I take the longer route around Arnhem, because it is a more relaxed drive; just cruising on autopilot over the highway instead of having to drive through the outskirts of Nijmegen and Lent in the last leg. So the drive is 90% highway. Note: the image shows 3 routes, the 1:14 alternative in the bottom right over the A3 is not relevant, it is either around Arnhem (92km) or underneath (75km).
So this 92 km drive took 124 km of the range; 32 km more, a 35% overhead. Now, I have to say that I had not preheated, but I've noticed such overhead before on a drive to Landstede in Zwolle and back. That totalled 117 * 1.35 * 2 = 316 km. And I went grocery shopping just before that drive, which resulted in my first stop at a supercharger on the way back.
Is that range practical?
So even though 341 km seems like a reasonable distance, in real life, in the fall, it is closer to 252 km (barely 300 km when charged to 100%).
Now, driving 250 to 300 km (about 2.5 hours) in a single stretch gets you to a point where your bladder needs attention and legs need stretching. That is, one never drives it to 0%, so a single stretch of a journey would be 200-250km max. That is somewhat short, but still okayish.
However, on a roundtrip, that range is divided by two and becomes 125-150 km. And that is a distance that is easily driven! My brother lives 135km away, has no charger at his home, and my parents will ride along. So when I visit him next week, I need to charge to 100% and should make it back without a supercharger stop. We will see.
So I should be able to do all the friends and family related drives with some planning. A work related roundtrip to Enschede, Utrecht, Amersfoort, Zwolle is doable, but Amsterdam and Den Haag require a charge. Would be nice if those clients have a place to charge.
---
Update:
The drive to my brother's was 134 km one way. When I arrived my battery was at 52%, starting at 100%, so theoretical it would be possible to drive back. But it was too close for comfort, so I would need a short 5 minute stop at a supercharger on the way back. Just a bit of headwind, and I would not make it. 5 minutes is not a disaster, but not what I counted on when I bought the car. Highway driving has a huge impact.
Luckily my brother lives a 5 minute walk away from a type 2 public charger. It puts 40 km of charge per hour in the car, so after the visit I have enough of a margin. I am curious if the charge point will be available enough.
Also I will attempt to drive just a tad slower (130 instead of 135 km/h), see if that makes a difference. After all, the drag goes up exponentially.
Summary: the range disappoints, no way around that. Given the just announced new price for the long range model 3 of just below 60.000 euros, knowing this, I would have chosen differently.